Pull up a chair, grab some munchies and join the
Ultimate Blog Party
!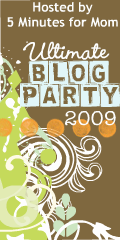 5 Minutes for Mom
is hosting a virtual party so that moms and dads across the blogosphere can connect. So head on over, check out the hundreds of blogs, add your blog to the party, and check out the
prizes
!
Now, a bit about me...
I'm a 29 year old Atlantic Canadian with a 2 year old daughter and a wonderful Hubby. I'm a music buff, a law school grad, a goof with those who know me well, a bit of a perfectionist, and a big fan of classic movies and old cartoons. I work part-time from home for a health promotion consulting company, but most days I'm happiest just hanging out with my daughter and enjoying her precious first years (ever wish you could stop the clock to savour the beauty of childhood?).
Painting Pink Pajamas
is pretty new, but I've been blogging since 2003. My daughter was born in 2007, and my posts were few and far between for a long time. After sleep deprivation subsided, I started posting again, but found that I wanted to talk about being a parent! My daughter is 2 years old now, and recently I've been browsing a lot of great blogs for activity ideas. I decided to share some of my recommendations, activities to do with toddlers and musings about being a parent, so this blog was born. I hope you'll have a look around and share your thoughts!
P.S. If I'm lucky enough to win a UBP prize, my top five prize picks from the Canada/US list would be:

Handmade Retro Apron from BoojiBoo
SavvyGirl & Companies' Candy Apples Bracelet
Big Combo Pack from Mabel's Labels
Box of laugh-friendly company books and doll
See Kai Run toddler shoes

Of course, winning anything else related to babies/young children would be great!